TeleMatrix Marquis 9600IP
Series SIP Hotel Phones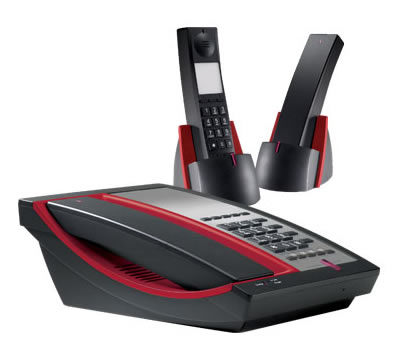 HOTELtelecom has been a leading supplier of hotel phone sets since 1989. As such, we will not knowingly be undersold. There's a reason we're among TeleMatrix's top distributors and you owe it to your business to try us today. When it comes to selling hotel telephone sets, HOTELtelecom is the best name in the business!
We will BEAT any verifiable price
on any new hotel telephone we sell!
TeleMatrix Marquis 9600IP cordless DECT SIP telephones will change the way you think about wireless IP telephones. Designed from inception to be the undisputed next generation of world-class wireless VoIP room telephones, the 9600IP cordless Series comes in your choice of black or ash.
Ranging from basic IP trimlines to VoIP cordless end-points, Internet protocol telephones are setting the bar in world-class IP telephony. Next generation communications deserves bold design. TeleMatrix has met this challenge with SIP telephones that are internationally designed for form and function, including coloured handset inserts* to enhance and complement guestroom and office decor on selected models. Colour inserts are optional in seven standard colours (red, ochre, blue, gray, white, orange & lime).
With almost 25 years experience and millions of telephones installed worldwide, TeleMatrix has market proven manufacturing, testing and pre/post service techniques. Constantly looking from the telephone's eye-view we have pioneered most of today's hospitality end-point communication innovations.
Click the links here to see each Marquis 9600IP cordless hotel phone model:
9600IP-MWD5 (below) | 9600IP-MWD | 9602IP-MWD5 | 9602IP-MWD

---
---